KORPIKLAANI Bassist Jarkko Aaltonen - "I Actually Like The Term 'Pagan Metal' Better As To What We Do"
17.08.2012 | Source: bravewords.com
KORPIKLAANI bassist Jarkko Aaltonen is featured in a new interview with Noisecreep. An excerpt is available below:



Q: The term "folk metal" seems to be everywhere these days, but you guys have been there for quite some time now.

Aaltonen: "I think the terms gets thrown around a lot in ways that are not fully accurate. I actually like the term 'Pagan metal' better as to what we do. For me, it's not a musical term but more of a lyrical term. There are so many different kinds of musical within what many call folk metal, it's not just one thing. It sort of depends on your origin."

Q: What are your thoughts on the new album? It's interesting how you turned to your national book of folklore, the Kalevala, for inspiration. Are you happy with the fan's reaction to it so far?

Aaltonen: "Very much. It's a little heavier than our usual music but we love how it turned out and so far. The fans seem really pleased and we are anxious to play it for fans. The darker, heavier songs seem to be going over the best."

Click here for the complete interview.

The Manala North American Tour will launch in Quebec City on August 28th, with MOONSORROW, TÝR and METSATÖLL rounding out the lineup.

"Once again we are very excited to come back to North America," said vocalist/guitarist, Jonne Järvelä. "It will be the first time we are able to tour on the release of our new record, Manala. We are also very pleased to be having our very good close friends from Moonsorrow, Týr and Metsatöll, so expect a great party with good friends and even better music!"

In an effort to give back to the fans, Korpiklaani and Nuclear Blast will be giving away a limited number of guest list spots (not a backstage pass) to some lucky fans for the Manala North American Tour. Head here for complete details.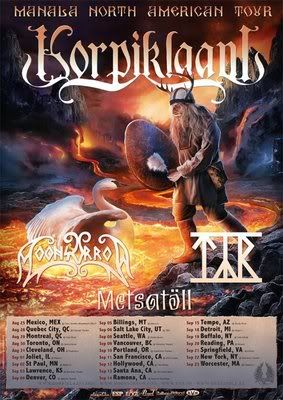 Manala North American Tour dates include:

August
28 - Quebec City, QC - Imperial Theatre
29 - Montreal, QC - Club Soda
30 - Toronto, ON - Opera House
31 - Cleveland, OH - Peabody's

September
1 - Joliet, IL - Mojoe's
2 - St Paul, MN - Station-4
3 - Lawrence, KS - Granada Theater
4 - Denver, CO - Marquis Theater
5 - Billings, MT - Manny's
6 - Salt Lake City, UT - TBA
8 - Seattle, WA - Studio Seven
9 - Vancouver, BC - Rickshaw Theater
10 - Portland, OR - Hawthorne Theater
11 - San Francisco, CA - DNA Lounge
12 - Hollywood, CA - The Whisky
13 - Santa Ana, CA - The Observatory
14 - Ramona, CA - Ramona Mainstage
15 - Tempe, AZ - Rocky Point
18 - Detroit, MI - Harpo's
19 - Buffalo, NY - Club Infinity
20 - Reading, PA - Reverb
21 - Springfield, VA - Empire
22 - New York, NY - Gramercy Theater
23 - Worcester, MA - Palladium

Korpiklaani recently uploaded the second part of the track-by-track video for Manala. Both track-by-track videos can be seen below:

Part 1:



Part 2:



Source: bravewords.com
Latest Korpiklaani news
Most popular from Korpiklaani
Links
---