SYMFONIA Ex-STRATOVARIUS Guitarist Timo Tolkki - I'm Getting Everything From Symfonia That I Was Getting From The Previous Bands As Well
10.07.2011 | Source: bravewords.com
Guitarworld.com`recently conducted an interview with SYMFONIA / ex-STRATOVARIUS guitarist Timo Tolkki. An excerpt from the interview is below: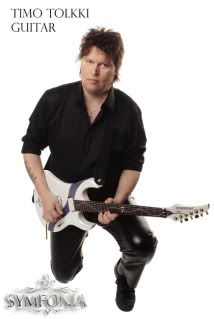 "Timo Tolkki is power metal royalty. From Stratovarius to Revolution Renaissance and now Symfonia, the Finnish guitarist was once ranked by Guitar World as one of the 50 fastest players in the world (27th, in fact).
The dude can shred, and he also seems to have a direct line to wherever it is that crushing power metal riffs and anthemic vocal melodies come from. If you liked Tolkki's work in Stratovarius, you'll also dig Symfonia's debut, In Paradisum. The album sounds at once familiar and new, and, of course, features lots of blazing axework.
Tolkki was with Stratovarius from 1985 until 2008, whereupon he threw himself into Revolution Renaissance, releasing three albums between 2008 and that band's breakup in 2010. And now there's Symfonia, featuring former ANGRA singer André Matos, ex-Stratovarius bass player Jari Kainulainen and former SONATA ARCTICA keyboard player Mikko Härkin (Uli Kusch played on the album but has bowed out due to a hand injury, replaced on tour by Alex Landenburg) .
"I'm getting everything from Symfonia that I was getting from the previous bands as well," Tolkki says. "They all had their time. Each band is different, with different members and personalities. I'm one of these people who thinks a band needs a leader, but that comes with some responsibility, and it's not easy to be the leader. In Symfonia we have two leaders, me and André, so we have to have conferences sometimes! [Laughs]. He's Brazilian and I'm a Fin, so the culture clash is there. It's very interesting: Revolution Renaissance had two Brazilians as well. I have a Brazilian curse! Some kind of voodoo or something! God only knows!""
Read the entire interview at
this location
.
Symphonia's debut album, In Paradisum, was released in North America on April 19th, and in in Europe on April 1st via Edel Germany GmbH.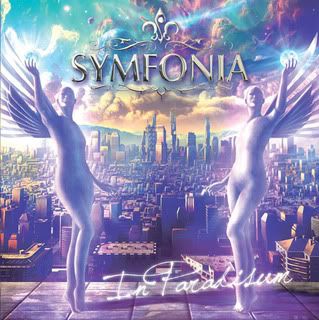 The In Paradisum tracklisting is as follows:
'Fields Of Avalon'
'Come By The Hills'
'Santiago'
'Alayna'
'Forevermore'
'Pilgrim Road'
'In Paradisum'
'Rhapsody In Black'
'I Walk In Neon'
'Don't Let Me Go'
As previously reported, Tolkki announced in April that the original Stratovarius Dreamspace line up will be releasing an album in January 2012.
Classical Variations Vol. 1 will be re-released as remastered version featuring new album Vol. 2 with bonus DVD including interviews.
Source: bravewords.com
Latest Symfonia news
Most popular from Symfonia
Links
---