SYMFONIA Want Fans To Document Upcoming Shows
29.06.2011 | Source: bravewords.com
Former STRATOVARIUS guitarist Timo Tolkki's new band, SYMFONIA (also featuring ex-ANGRA vocalist Andre Matos), check in with the following update:
"We are rehearsing for the upcoming shows in Helsinki (Finland). We would like to ask all those fans who come to see the shows in Finland, France and Latin America to bring along your cameras, video recorders and other recorders for the purpose of documenting the shows. You can send or give the material to us after the shows and we will put some of them online after every show."
A previous update from Symfonia reads: "We would like to thank all of you who have supported us and our In Paradisum in the last months. We have received a very good response both in sales and in reviews for the album.
We are sorry for the lack of news but we have had a good reason for the silence.
We have been waiting for our friend (drummer) Uli (Kusch, ex-HELLOWEEN) to get better with his hand. We knew we took a risk in waiting, but we considered it best for the band. This is why there has not been any shows so far apart from Helsinki Metal Meeting in February.
Few weeks ago we received more news from Uli's doctors and they were very bad. They said that it is not likely that he could play drums this year at all. After talking with Uli and in mutual understanding, we agreed to continue Symfonia without him. It is a painful decision for all of us but after Uli told us it is best for us to go on without him and not to wait anymore due to uncertain future with his hand, we decided to do this. And the truth is, we simply cannot wait any longer.
We will do some shows with Alex Landenburg as a substitute drummer and then go straight to the studio to record a follow up to In Paradisum for March 2012 release. We already have a good idea how the album will be and we apologize to all those who have been waiting to see us live.
Unfortunately due to the impossible circumstances it has not been possible but we will correct this with the next album next year. We don't feel that it is the right move now to book more shows than these. We feel it is time for a new Symfonia album and then book the shows. We have a lot of time to do this now that the situation is clear with Uli.
The shows are as follows. Additional shows are still possible for Argentina, Chile, Colombia and some other Latin American countries. The agents are booking them in this very moment."
Dates include:
July
6 - Helsinki, Finland -Tavastia
8 - Amnéville, France Sonisphere Festival
30 - Porão do Beco, Brazil - Porao do Rock Festival
31 - São Paulo/SP, Brazil - Citibank Hall
August
2 - Porto Alegre/RS, Brazil - Bar Opiniao
5 - Teresina/PI, Brazil – Venue TBA
6 - Sao Luis/MA, Brazil – Venue TBA
7 - Rio de Janeiro/RJ, Brazil - Fundição Progresso
Symphonia's debut album, In Paradisum, was released in North America on April 19th, and in in Europe on April 1st via Edel Germany GmbH.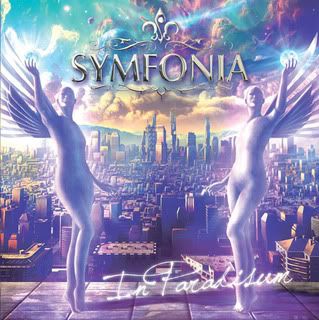 The In Paradisum tracklisting is as follows:
'Fields Of Avalon'
'Come By The Hills'
'Santiago'
'Alayna'
'Forevermore'
'Pilgrim Road'
'In Paradisum'
'Rhapsody In Black'
'I Walk In Neon'
'Don't Let Me Go'
Symfonia made their live debut at the Finnish Metal Expo on February 18th. Fan-filmed footage is available below:
Source: bravewords.com
Latest Symfonia news
Most popular from Symfonia
Links
---